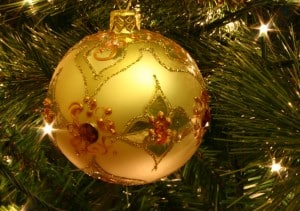 Right now, we are in the thick of the holiday season. For divorced families or families going through divorces, juggling holiday schedules can be quite overwhelming and emotional. They have to decide which parent gets to spend which holiday with the children, often leaving the other parent without his or her kids during the holiday and with a huge void in his or her heart.
Is there a way around alternating holidays with your ex? The short answer is yes! In Arizona, parties have flexibility in how they structure their parenting time schedules. They can spend as much or as little time co-parenting as they want. Even if there is a court-ordered parenting time schedule in place, if both parties consent, they can make changes to the schedule that are in the best interest of their children. So, for example, if 2015 is Mom's year to be with the kids for Christmas per the court-ordered parenting time schedule, Dad can crash the fun if Mom is on board with that game plan. The kids would likely cherish the special time with both of their parents. Nick Cannon and Mariah Carey provide a great example of how co-parenting during the holiday season could work.
Enjoy your holiday season with your loved ones!
https://dodgevegalaw.com/wp-content/uploads/2015/12/kids.jpg
1407
2500
Ben Dodge
https://dodgevegalaw.com/wp-content/uploads/2018/12/logo.png
Ben Dodge
2015-12-22 16:29:12
2019-02-14 13:35:38
Co-Parenting During the Holidays: Is It Possible?